OPENING APRIL 29th 2023 at The Sam and Adele Golden Gallery at Golden Artist Colors
188 Bell Rd, New Berlin, NY 13411
The exhibition will run through the summer of 2023.
Save the date for our 10th annual Made in Paint exhibition featuring artists in residence from 2022.
Elisabeth Condon, Eleanor Conover, Cat Crotchett, Maeve D'Arcy, Laura Duerwald, Mark Joshua Epstein, Elizabeth Gilfilen, Jacin Giordano, Huang Hua-Chen 黃華真, Louise Mandumbwa, Wen Meng-Yu 温孟瑜, Marcello Pope, Cristi Rinklin, Laura Von Rosk, Erika Whitney, Laura Williams, Etty Yaniv and Emily Zuch.
To view the websites of the artists featured in this year's exhibition, click here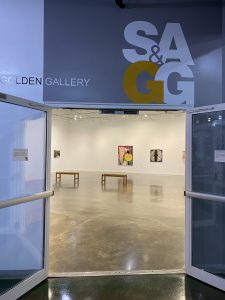 Gallery Image from MIP 2020